There are multiple servers that a player can choose from to play the game and the list is constantly growing. Once a server is selected, the player can create up to four characters in it, per account; each account can have up to four characters in a server in all servers, but said characters are only accessible by selecting the server they were created in. It is not possible to move the created character(s) into another server, the only alternatives being to start over on the desired server and create new characters there, or to wait for a server merge.
Servers show different levels of fullness based on the amount of players in the server: Maintained is a gray color, Crowded is a yellow color, Hot is an orange, and Full is red. A player can enter any server regardless of fullness, which is important given all servers are constantly marked Full nowadays.
In the global version of Dragon Raja, there are only two types of servers: American (AM) and European (EU). AM servers will never interact with EU servers, and vice versa.
See the page about Server Merges for info pertaining them. It is important for those who want to know which servers' communities have been mixed together.
Time Zones and Servers Available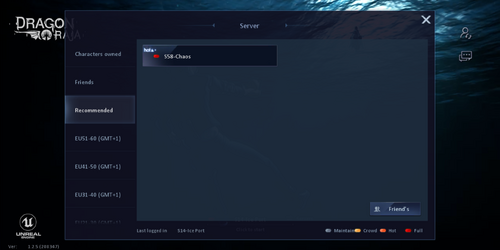 The following are how the servers are listed, from new servers down. European servers are listed before American servers as well.
Headings such as EU1-10 (GMT+1) are the tabs players will see. The arrangement of server names in the tables are what will appear in the space to the right of said tabs, given one tab lists 10 servers.
European (EU) Servers
EU 111-120 (GMT+1)
EU 101-110 (GMT+1)
| | |
| --- | --- |
| S110-Candy Medal | S109-Double 11 |
| S108-Elictric | S107-Gacha Pack |
| S106-Rainbow | S105-Ghost Car |
| S104-Glow Stick | S103-Balrog Poet |
| S102-The Search | S101-Happy Planet |
EU 91-100 (GMT+1)
| | |
| --- | --- |
| S100-Alloy Coin | S99-Gorgeous |
| S98-Near Future | S97-Love Moment |
| S96-Honey Kiss | S95-Snow Kiss |
| S94-Reborn | S93-Gorgeous |
| S92-Ice Lemon | S91-Blood Wing |
EU 81-90 (GMT+1)
| | |
| --- | --- |
| S90-Kid Anger | S89-Long Song |
| S88-Peacekeeper | S87-Tarot Soul |
| S86-God of War | S85-Melody Soul |
| S84-Magic Power | S83-Fire Lord |
| S82-Bloodline | S81-Overlord |
EU71-80 (GMT+1)
| | |
| --- | --- |
| S80-Pulse Bomb | S79-Azure Moon |
| S78-Night Sky | S77-Snow Spirit |
| S76-Sea Watch | S75-Rosy Love |
| S74-Nebula Tide | S73-Night God |
| S72-Ring of War | S71-Royal Disk |
EU61-70 (GMT+1)
| | |
| --- | --- |
| S70-Manic girl | S69-God befalls |
| S68-Coral Sea | S67-Inspiration |
| S66-Soul Chaser | S65-War Scar |
| S64-Law of Time | S63-Death Aria |
| S62-Last Waltz | S61-Requiem |
EU51-60 (GMT+1)
| | |
| --- | --- |
| S60-Destroyer | S59-Lucky Star |
| S58-Hell Dance | S57-Sakura oath |
| S56-Epic Poetry | S55-Sakura |
| S54-Judgement | S53-Fight Again |
| S52-Jade Stone | S51-Star Ocean |
EU41-50 (GMT+1)
| | |
| --- | --- |
| S50-Legend | S49-Ice pillars |
| S48-Rhapsody | S47-Vanguard |
| S46-Magma Core | S45-Crescent |
| S44-Mist | S43-Dream Game |
| S42-Witch Game | S41-Dark Blade |
EU31-40 (GMT+1)
| | |
| --- | --- |
| S40-Neon | S39-Golden Eyes |
| S38-Tide Spirit | S37-Night Rain |
| S36-Star Bond | S35-Meteor |
| S34-Jungle King | S33-Dominic |
| S32-Fracture | S31-Snowmoon |
EU21-30 (GMT+1)
| | |
| --- | --- |
| S30-Liberty Day | S29-White King |
| S28-Beacon | S27-Dragon Wing |
| S26-Clear Jade | S25-Dusk Flame |
| S24-Dawn | S23-Moonlight |
| S22-Soul Storm | S21-Odin Brand |
EU11-20 (GMT+1)
| | |
| --- | --- |
| S20-Time Rules | S19-Bones Well |
| S18-Soul Echo | S17-Black Swan |
| S16-Evil way | S15-Crime Abyss |
| S14-Brilliance | S13-Trial Land |
| S12-Golden Age | S11-Sakura Fall |
EU1-10 (GMT+1)
| | |
| --- | --- |
| S10-Alchemist | S9-Nether Realm |
| S8-Time Phantom | S7-Summer Night |
| S6-Throns Crown | S5-Gods Raving |
| S4-Eternal Eyes | S3-Empty Place |
| S2-Frozen Snow | S1-Rhine Plan |
American (AM) Servers
AM 121-130 (GMT-5)
AM 111-120 (GMT-5)
| | |
| --- | --- |
| S120-Isabel | S119-Last Battle |
| S118-Empty Night | S117-Scenery |
| S116-Time Train | S115-Poridge |
| S114-Mystery Seed | S113-Twin Blades |
| S112-Devil Awake | S111-Sigil |
AM 101-110 (GMT-5)
| | |
| --- | --- |
| S110-Snowstorm | S109-Music King |
| S108-Deep Sky | S107-Nidhogg |
| S106-Dusk Horn | S105-Frozen Lake |
| S104-Alarm Bell | S103-Gate of Fate |
| S102-Dark King | S101-Ace Trip |
AM91-100 (GMT-5)
| | |
| --- | --- |
| S100-Respawn | S99-Blue Sky |
| S98-Far Away | S97-Beach Party |
| S96-Power Space | S95-Snow and Ice |
| S94-Abyss Eye | S93- Shadow Focus |
| S92-Top Assasin | S91-Jungle Lord |
AM81-90 (GMT-5)
| | |
| --- | --- |
| S90-Lost Realm | S89-Draconic |
| S88-King Order | S87-The Brain |
| S86-Challenge | S85-Will |
| S84-Intelligence | S83-Strength |
| S82-Withdrawing | S81-Lust of War |
AM71-80 (GMT-5)
| | |
| --- | --- |
| S80-Rubber Duck | S79-Fire Shield |
| S78-Seiryu | S77-Ice Cyclone |
| S76-Spider Egg | S75-Red Spirit |
| S74-Storm Envoy | S73-Fire Envoy |
| S72-Swamp Golem | S71-Lava Golem |
AM61-70 (GMT-5)
| | |
| --- | --- |
| S70-Concealment | S69-Naraku |
| S68-New Life | S67-Wind Moon |
| S66-Soul Bond | S65-Music Neon |
| S64-Rhapsody | S63-Gods Glory |
| S62-Blessing | S61-Windchime |
AM51-60 (GMT-5)
| | |
| --- | --- |
| S60-War Master | S59-Nightmare |
| S58-Chaos | S57-Starlight |
| S56-Dark Night | S55-Assault |
| S54-Eternal | S53-Dream House |
| S52-Happy Times | S51-Lightning |
AM41-50 (GMT-5)
| | |
| --- | --- |
| S50-Apostle | S49-Light Cone |
| S48-Shrine | S47-Descendant |
| S46-Dragon Soul | S45-Holy Shield |
| S44-Dilation | S43-Dawn Flame |
| S42-White Night | S41-Dark Moon |
AM31-40 (GMT-5)
| | |
| --- | --- |
| S40-Aurora | S39-Immortal |
| S38-Wind shot | S37-Guardian |
| S36-Elf Power | S35-Twilight |
| S34-Doom Walker | S33-Rising Star |
| S32- Alliance | S31-Bright Ring |
AM21-30 (GMT-5)
| | |
| --- | --- |
| S30-Dragon Roar | S29-Dreamland |
| S28-Black King | S27-Fate Blade |
| S26-Chizuru | S25-Icy Lair |
| S24-Moon Realm | S23-Sky Tower |
| S22-Hydras | S21-Genji Inc |
AM11-20 (GMT-5)
| | |
| --- | --- |
| S20-Bone Cross | S19-Leviathan |
| S18-Norton | S17-Scarlet |
| S16-Jormungandr | S15-Fenris |
| S14-Ice Port | S13-Dilliast |
| S12-Gungnir | S11-Bronze Maze |
AM1-10 (GMT-5)
| | |
| --- | --- |
| S10-Sumiza | S9-Ice Throne |
| S8-Cassell | S7-Constantine |
| S6-Bliss Hall | S5-Bronze City |
| S4-Nibelungen | S3-God Kingdom |
| S2-Valhalla | S1-Odin Abyss |