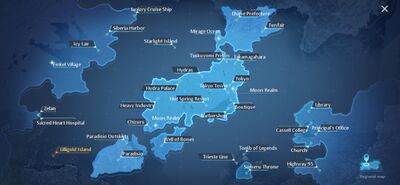 The world map displays all accessible maps that players can enter.
On the top left of each map interface, it displays:
The current map's temperature in degrees Celsius.

Temperature is important for some activities.

The map time; not to be confused with server time.
Current weather, humidity, and the weather report for the next 24 map hours.

Weather factors are important for Anecdotes, Cuisines and Superstar.
On the right there is a list of locations and NPCs of interest, which are marked as green on regional maps. Selecting a name there will auto-route the player to the location. Locations of which the players can spawn at are marked as blue.
Map Timetable[1]

| | | |
| --- | --- | --- |
| Time of Day | IG Map Times (AM) | IG Map Times (EU) |
| Early Morning | 11:00 - 13:59 | 23:00 - 1:59 |
| Morning | 14:00 - 17:59 | 2:00 - 5:59 |
| Noon | 18:00 - 18:59 | 6:00 - 6:59 |
| Afternoon | 19:00 - 22:59 | 7:00 - 10:59 |
| Evening | 23:00 - 1:59 | 11:00 - 13:59 |
| Night | 2:00 - 3:59 | 14:00 - 15:59 |
| Midnight | 4:00 - 5:59 | 16:00 - 17:59 |
| Dawn | 6:00 - 10:59 | 18:00 - 22:59 |
List of Locations
Siberia
Icy Lair
Luxury Cruise Ship
Siberia Harbor
Sacred Heart Hospital
Zelan
Finkel Village
USA
Church
Highway 95
Library
Principal's Office
Hokkaido, Japan
Ehime Prefecture
Funfair
Mirage Ocean
Starlight Island
Honshu, Japan
Barbershop
Boutique
Chizuru
Heavy Industry
Hot Spring Resort

Hydras

Hydra Palace
Takamagahara
Tokyo
Tokyo Tower
Tsukuyomi Prison
Kyushu, Japan
Lilligold Island
Paradisio
Paradisio Outskirts
Okinawa, Japan
Sumeru Throne
Tomb of Legends
Trieste Line
Gallery